Workout Mind-Set that Will Help You Stay Motivated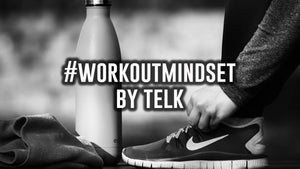 Whether you're a fitness newbie or someone who's already a professional, everybody gets demotivated at some point. Either life must have happened, or you're simply not feeling enthusiastic about working out; whatever your reason may be, TELK has you covered. Here are a few things to keep in mind to stay motivated and hit your goals:
Congratulate Yourself

- Start your day at home or in the gym by acknowledging the fact that you decided to show up for your daily exercise. It's a great way to boost your energy and confidence to get through your minutes or even hours of workout.

Don't Settle

- Once you've gained that significant percent of self-encouragement, never settle on just one workout. You must continue to explore exercises that will tone other parts of your body as well. 

Keep the Challenge

- Similar to #2; you must always raise the bar every time you hit a goal. When you stop challenging yourself, you also start building a comfort zone. Push yourself to do better because YOU CAN do better.

You Don't Have to

- Do a workout or stay in a routine that you're not comfortable with. Balance is essential. Everyone has their limitations, and so do you. Setting a boundary helps a lot with avoiding physical injuries.

Don't Expect

- That this is going to be a painless, easy, and effortless journey. Rather, anticipate otherwise and make the most out of it.

The pain you feel today, is the strength you'll feel tomorrow. Trust the process.

Never Forget

- To take a day off and stay hydrated — It's a basic rule that professionals are gonna swear by. A high or low-intensity workout creates small tears in your muscle fibers, and a rest day or two will give your body time to rebuild and refuel. Drinking fluids additionally assists in replenishing the much-needed nutrients of your body that assists in recovery.
"The only bad workout is the one that didn't happen."
***
Make sure to follow us on 
Instagram for more announcements and tips: @telkfitness 
Leave a comment
Comments will be approved before showing up.