For Fast Recovery: Add Strength Training in your Physical Therapy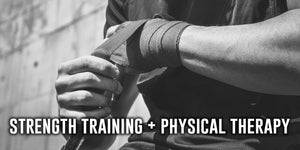 Physical therapy is a customized program that primary care doctors often advised to anyone who is suffering in long-term pain caused by a medical condition, illness or injury. It assists in building strength and muscle that helps people feel better and stronger.   
"Your body is your most priceless possession. Take care of it." — Jack Lalane
Benefits of Physical Therapy
Aids in eliminating or reducing pain
Lessens the need for surgery or
Prepares a patient to be in good shape for surgery
Boosts mobility for all ages
Shortens the recovery period
Improve balance
Great for general fitness and weight loss
Manage illnesses such as:

Diabetes and vascular conditions
Arthritis, Osteoporosis or joint replacement
Heart disease or pulmonary problems
Constipation
Breast Cancer
Lymphedema
Pelvic pain, and more
How does it treat pain?
Physical Therapy targets those weak or stiff areas that contribute to pain. Certain exercises are done to support the patient and ease the feeling of discomfort. Depending on what is being treated, here are some of the possible exercises that cover strength training:
Low-Impact Aerobic Training - an excellent alternative to cardio exercise. It doesn't only pump up the heart rate, it also equips the patient's muscles.
Strengthening Exercises - machines, fitness equipment or body weight will be used. The central purpose is to work out the core muscles, as well as the other parts of the body.
Pain Relief Exercises - focusing on the area/s where there is pain, the central purpose of this exercise is to build strength and be more flexible.
Stretching - a warm-up will be done first before proceeding to a gentle stretch. It is advisable to not stretch too far so as to avoid stress on the muscle.
Strength Training in Physical Therapy
There are three types of exercises that can be expected when strength training is added to the program:
Isolation Exercises - prescribed for injury rehab or those who are just starting on physical therapy
Isometric Exercises - usually advised to individuals who have arthritis or another joint condition.
Multi-Joint Exercises - added exercise for patients who are improving on the program. It imitates daily movements, using and engaging more muscles. 
"Individuals who include strength training as part of a physical therapy program tend to see greater results, faster" — Laura Williams, M.S.Ed.
Make sure to follow us on Instagram for more announcements and tips: @telkfitness 
Leave a comment
Comments will be approved before showing up.