How to Set (And Hit) A Fitness Goal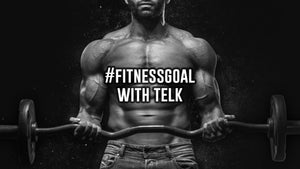 Achieving a fitness goal is the same as developing a good habit. It will be hard to keep up and do regularly. It will begin with a cheat day or two, falling into distractions and the worst part — failing to the point of feeling unmotivated and unhappy about yourself.
Don't worry. It's not the end of your fitness journey.
"Your body can stand almost anything. It's your mind that you have to convince."
Here at TELK, we support you and your fitness goal. Consider us as one of your workout buddies. Still, our support wouldn't be enough if you wouldn't keep these ten things in mind when setting the fitness goal you want to achieve:
Be Realistic

- One of the most common mistakes that a lot of people do is that they set the bar too high, too early. It often leads to disappointment when they realize that it's unsustainable. You need to start small and work your way up. If you want to get those amazing abs, you have to get rid of the flab in your stomach first. Break down your end goal into tiny parts; it will help you focus on what to primarily do and prevent feeling anxious about what to do next. This will also help you gain the confidence to continue moving forward with your fitness goal.

Make it Measurable

- Are you losing or gaining weight? Numbers will help us know if you're on the right track or not. Keep a record of what you eat, measure your body (while also taking a documented photo of it) and track your workouts — not daily, but weekly. It will help you identify which to improve and which are working best for you.

Make it Specific

- This part will significantly assist you in keeping yourself on the right and more evident track. Don't just say, "I want to be healthy," but say, "I want to lose an inch or two on my stomach." Know which particular part of your body should you focus on, how many hours a day can you commit yourself for a workout, and what foods should you intake as part of your everyday meal. 

Having the answers listed down is a great daily reminder that will help you keep going in the right direction.
Make it Time-bound

- Setting a deadline creates self-discipline. It also supports you, to be honest with yourself. How long do you think you can achieve that

specific

fitness goal? Take into consideration the other factors that also play in your life, such as school or work, family, and social life. When dealing with your fitness goal deadline, it must also go along with your schedule and other commitments.

Play The Long Game

- Let's face it. Fitness goals should be part of the long term goals. No one can lose 10 pounds in a couple of days without getting sick — and that is extremely unhealthy. Similar to a good habit, it will take a while. It can be months or even a year. Set this expectation ahead. 

It will help your mentality see this fitness goal as becoming a part of your lifestyle gradually.
Be Determined

- To achieve this, you must initially understand why you listed those fitness goals. It's essential to know the exact reason behind each goal as it will also affect you in the long run. If your intentions are full of negativity, scratch it out and replace it with something positive. For example, "I want to gain weight because I was bullied in school," replace it with "I want to gain weight because I want to feel more healthy and happy about my body." Always redirect the motivation to yourself, not on someone else.

Be Consistent

- A cheat day is okay just as long as they are not 2-5 days in a row. Whenever you take a break or pause on your fitness time frame, it prolongs and minimizes the success of achieving your fitness goal. Constant starting and stopping do no good. Discipline is the key.

Eat Healthily

-

You are what you eat.

Understand your body by visiting a nutritionist or simply by researching what to eat and what to avoid in your fitness journey. It will be hard to maintain at first, but eventually, just like any good habit, your body will feel accustomed to it. And while you're keeping yourself on top of being healthy, don't forget to stay hydrated. Keep in mind that when you're body is lacking water, your muscles won't be able to work as hard as usual. 

This usually results in overeating or giving in to cravings.
Have a Workout Plan

- One of the most critical things on this list, and also one of the most misunderstood. Do not base your workout plan over what you see on your feed. It is not productive nor practical. Make your workout plan as your own. You can seek advice from a coach, or you can also research it all by yourself. The main point is, every individual come in different age, shape, and sizes — and not every workout is fit for all. Be knowledgeable about what's best for you and your body.

Get a Workout Buddy

- 

This can be skipped if you prefer doing things on your own, but having a workout buddy makes it more motivating and exciting. They will be the main support system in your fitness journey. An additional positive word of encouragement never fails to create a huge difference in achieving your fitness goal.
***
Make sure to follow us on Instagram for more announcements and tips: @telkfitness
Leave a comment
Comments will be approved before showing up.